Welcome
The Hay House is a stunning historical landmark in the heart of Macon, Georgia. Built from 1855 to 1859 in the Italian Renaissance Revival Style, the Hay House is open for tours, weddings, and events. Come visit us to be transported back in time!
Hay House is open for limited daily tours.

To protect our visitors and staff, heightened health and safety measures are in place.  For a trouble-free visit, please review the following guidelines and procedures:
Online reservations are highly encouraged to expedite tours and to reduce interaction at the entry to the House. Please use the online portal to reserve a tour. Without a reservation, please be advised that we cannot guarantee that a tour will be available when you arrive.
Face coverings are required for ALL visitors and staff during tours of the House.  NO EXCEPTIONS! Disposable masks are available for purchase at cost if needed.
Social distancing between unrelated visitors is EXPECTED. Tour groups will be limited to 10 visitors.

All tours are guided by trained docents who are available to answer questions during and after the tour and to help maintain social distancing.

Heightened cleaning procedures.

Hand sanitizer is available at entry and throughout the House for public use. Staff will clean frequently touched areas regularly throughout the day.

Visitors will be required to read and sign a Certification and Release of Liability. As part of the waiver, visitors must self-certify that they have none of the symptoms of COVID 19 as defined by the Centers for Disease Control.
The House
One of Georgia's most distinguished structures, the Johnston-Felton-Hay House in Macon was declared a National Historic Landmark in 1974. The house itself contains more than 18,000 square feet in 24 principal rooms.
Visit Us
We invite you to experience the beauty of Hay House on a tour! Guided tours are offered by reservation only at 10:00 a.m., 11:30 a.m., 1:00 p.m., and 2:30 p.m. The museum is closed on Tuesdays.
The Georgia Trust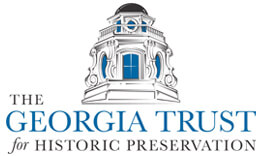 For information about The Georgia Trust's programs, Rhodes Hall, historic buildings for sale, weekend tours and our many other events click below.